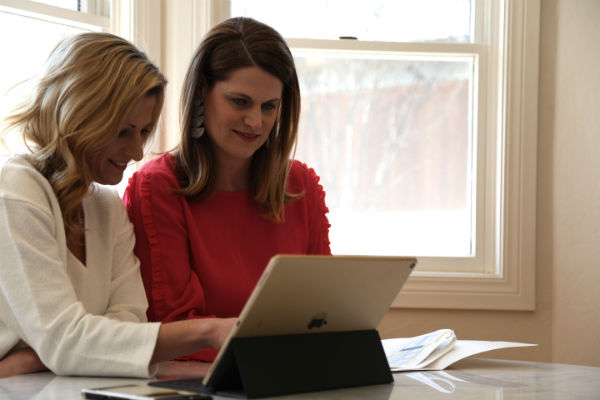 Leah Strickland and Whitney Moss formed their real estate team to offer their clients more dedication and knowledge of the greater Oklahoma City Metro real estate market. Their passion for real estate manifest in every aspect of their business and their Love for OKC! They share the same passion for real estate and both hold the same core values making their real estate partnership a natural fit. Not to mention they both love the fast pace and ever-changing industry that Real Estate offers. Leah & Whitney love the hunt to find their clients a home that meets and exceeds their expectations and their persuasive negotiating skills are an asset to all their clients.
Leah's background was in the investment financial sector for 6 years and during that time she realized her strong passion for real estate. The investment career came along with a heavy travel schedule and after 6 years of traveling the world Leah decided to leave the investment industry and become a real estate agent in Oklahoma City. Leah has been a realtor with First Source Real Estate since 2008. In the past 11 years, she has been honored numerous times by The Journal Record for "Top Residential Real Estate Associate in OKC & Tulsa."
Whitney has a background in sales and marketing for the past 16 years and she has always loved real estate. Leah helped Whitney and her husband find the perfect home and their friendship continued to grow.
Helping buyers with remodeling ideas (dos and don'ts) and visualizing different ideas are skills they use when searching for their clients a home. Providing their sellers with staging, decluttering and market ready tips is crucial for listing homes. Leah & Whitney are focused on keeping up with the latest market trends which is truly invaluable to their buyers and sellers.
Whether their clients are buying or selling a home, their expertise is available through the entire process making for a smooth transaction.
"Our top priority is ALWAYS the client. We take the time to get to know our clients. Understanding the concerns and the desires of our buyers and sellers is essential for a successful transaction. Keeping in constant contact by communicating effectively is probably the most important thing we do"
Leah and Whitney bring energy, hard work and creative thinking to every detail through the process. They are dedicated to providing a full service and high quality experience for all real estate needs - whether it is buying a home, selling a home or finding investment opportunities. "Honestly, we love what we do and when you love your career it doesn't really seem like work."
They both serve on several local community boards and non-profit committees. They enjoy spending time making their city, Oklahoma City, the best place to live & work! In Leah's spare time, she enjoys fitness classes, traveling, reading, spending time with her family, snuggling up with the family dog (Koda), and cheering on her 2 sons in all their activities. Whitney enjoys traveling with her husband and son, hosting family & friends at their home, cooking and reading the latest news and books.
WHY CHOOSE US?
Complete Listing Exposure. Impactful, consistent services and marketing set us apart from other companies. The following services are available when you partner with us:
Property Photography & Graphics

Property Video Production & Posting

Aerial Video Production & Posting for large properties

Online Advertising

Social Media Marketing

Print Advertising

Commercial Property Services

MLS and Exclusive Listings

Contract & Inspection Coordination

One-on-One commitment all the way to closing
Extensive Online Exposure of your property through our website and other partner affiliates such as Trulia, Zillow and Realtor.com.
Social Media Channels are used extensively by us to promote your property including Twitter, Instagram, Facebook, Pinterest and YouTube.
Print Advertising beautiful, printed brochures are produced and distributed to potential buyers and their agents.
If you are someone who is looking to sell your home, be sure your home is given all of the attention it needs to be promoted for the highest value possible in the marketplace. If you are looking to buy a home, Leah and Whitney will make sure to do everything in order to get the sell done while giving you the tools needed to help you find your dream home.
We are thrilled to bring you "The Power of Two in Real Estate" to the Oklahoma City Metro Area